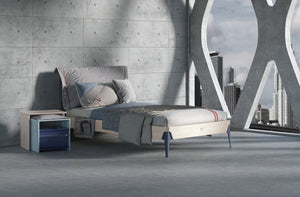 Youngster Room models that you can use even when said "How did you grow up so fast?!"
BESTSELLING SERIES
Romantic
Did you know that this room has the power to change the world? We do, because it has you and your dreams in it!
View
BESTSELLING SERIES
Trio
Simple, modular and extremely chic, the Trio Series is dynamic, flexible and free just like you young ones!
View
In the Siplicity and Freshness of White:
Romantica
You will say that Romantica, the most elegant and emotional state of being in a place, is like a bliss that is quietly accommodated in its room, as if it was always there!
View
Rustic White
Rustic White Youngster Room, bringing together the classical and simple texture of white with the touch of modernity to create a warm, contemporary and peaceful atmosphere...
View
Modera
Every fashion Modera. This room is your room... Modera has modules equipped with functional features to share your every excitement...
View
Selena Pink
Selena Pink Younster Room, inspired by the emotions of the tender, dreamer, sincere, gentle and loving young who love the color pink...
Optional button
Selena Grey
Selena Grey Youngster Room, the simple beauty you're looking for with smooth strokes designed with classical motifs on white color that are kind on the eye...
Optional button
Yakut
Yakut Youngster Room, blooming with flowers all over your room with its tender spark and vivacious tones...
View
Dark Metal
Designed with the free spirit that dives deep into the darkest shades of creativity, Dark Metal is waiting to meet your light to reflects its infinitesimal colors.
View