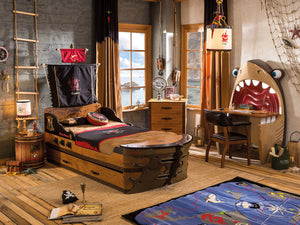 Kids' rooms where development, learning and fun hit the roof!
Montes White
The Montes Series, designed with the inspiration from the "Help me do it myself" motto of the Montessori system of education, has brought together the vivid imagination of kids with entities that boost development.
View
Montes Natural
It is possible to sail off to the oceans with the Pirase Series that was designed for the ones who want to experience the adventure beyond dreams and imagination! With the condition of Brushing teeth, turning in on time and starting the day with enthusiasm...
View
Pirate
It is possible to dive into the vast seas with the Pirate Series , designed for those who want to experience adventure beyond imagination! With the condition of brushing teeth, sleeping on time and starting the day with excitement...
Optional button
Princess
For princesses who want to travel to pink dreams.
View
Racecup
If you want a dynamic and fast room in the racer theme, Racecup Series is for you!
View
First to sleep wins...
Our super fast Car Beds are off to the races...
Let Them Keep Using It Once They've Grown Up!
Let Cilek Room be the one thing that remains the same throughout all these years you're growing up in the blink of an eye!
Mocha
With its nature-dominated theme that modern day can never take away from us no matter how far technology goes, Mocha Kids' Room carries nature's healing and relaxing power into children's rooms.
View
Romantic
Romantic Kids' Room was designed with our faith in your imagination that will make the world a better place. In this room there are not only need-based commodities but also a fairytale wherein you will be the muse and the hero!
View
Romantica
The white is simple yet confident, the pink is calm yet strong, details are small yet daring, style smooth yet artsy, life--always Romantica...
View
Black
You will witness a freedom that easily assimilates into their lives in the Black Kids' Room which offers a world of its own.
View
White
Offering the comfort of being on the clouds with its quality and all its features, White Kids' Room turns the page into a blank page.
View
Yakut
The term "waking up like a princess" may as well be literal with Yakut Kids' Room's gentle spark that brings color into the room.
View
CILEK BLOG
Colors Are Just as Important as Furniture in Choosing Kids' Rooms!
We want everything to be perfect for our children whom we are waiting impatiently to join our lives. Their clothes, their education, their afterschool activities, playgrouds and rooms...